Downloadable version
If you have problems playing online (slow connection, errors or other things) an offline version is available, so you can download it and comfortably play it on your computer (at the moment it is available only for Windows).
No installation is required, once you donwload the zip file you just have to unzip it where you want and play it..
Minimum requirements:
PC with Windows XP / 2003 Server / 2000 / Me / 98SE - Intel Pentium III 800Mhz or equivalent - 128 MB RAM
50 MB available on the Hard Disk - Video card and audio card DirectX compatible.
The reccomended configuration to fluidly play the game without any slowings is the following:
Intel Pentium 4 2.4GHz or equivalent - 256 MB of RAM
Download off-line version: Zip 55.7MB
Concept Arts
Some images from the book printed in secret and in very few copies.
A collection of drawings... like you haven't seen in a while.
A look to the work behind genereAvventura.
Characters: Zip 7.17MB
Backgrounds: Zip 25.7MB
Storyboards: Zip 2.94MB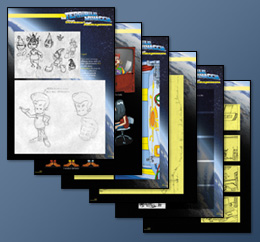 Avatars
A nice, fat package of avatars for
MSN Messenger and other Instant Messaging software (also good for forums and icons).
All the images in png format
already cropped and optimized at 96x96 pixel.
Avatars: Zip 1.33MB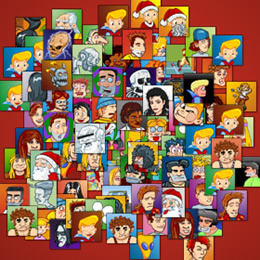 Surprise!
Have you beaten the game?
If you are wondering what was that code you got at the end for, well, here's the answer!
Insert it in this field and download the exclusive special contents of genereAvventura!
Wallpapers
The backgrounds to personalize your computer ! A collection for every taste and every size.
Jpg at the maximum quality possible, you can dowload them by clicking on the desired dimension.
A new window will pop up, when the image is fully loaded right-click (on a mac, press Ctrl and click), select "Save image as..."
and save your background where you prefer.