Ti trovi alla fine di una strada prima di un piccolo edificio di mattoni.
Intorno a te c'è la foresta. Un piccolo ruscello scorre fuori dall'edificio e giù in una gola.
Poco distante riesci ad intravedere una torre alta, bianca e splendente.
Con queste parole, iniziava la prima adventure.
Il suo nome è "Colossal Cave Adventure" e fu ideata e scritta da William Crowther nel 1972 e successivamente migliorata insieme a Don Woods nel 1976.
Un po' di storia
Un adventure (in italiano, generalmente, avventura) è definibile come un programma in cui il giocatore, mediante astuzia e sagacia, deve riuscire a superare vari ostacoli risolvendo tutti i quesiti per arrivare a conquistare il "tesoro" finale.
Questo semplice concetto è alla base di qualunque avventura prodotta, anche se le modalità di interazione con il gioco si sono evolute e sono cambiate con gli anni.
All'inizio l'interazione era text-based: avveniva, cioè, mediante l'input da tastiera di due parole, verbo e sostantivo, che servivano per comunicare l'azione desiderata al programma, che avrebbe risposto in base alla situazione descritta in quel momento del gioco.
Naturalmente il parser, cioè la parte del programma che analizza e interpreta l'input, era limitato e troppo spesso il programma rispondeva con frasi tipo: "Non puoi farlo", oppure: "Non capisco".
A causa delle limitate capacità delle macchine su cui venivano programmate, le prime avventure erano completamente senza grafica.
Se William Crowther avesse scritto La Terribile Minaccia degli Invasori dall'Audiogalassia, questa sarebbe apparsa così sui computer dell'epoca: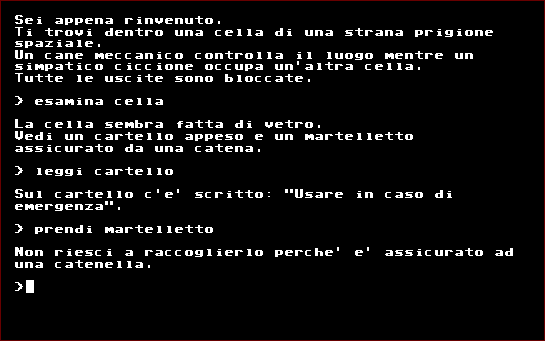 Avventure "grafiche"
Con l'avanzare della tecnologia (soprattutto nella prima metà degli anni '80) le avventure iniziarono a colorarsi!
Sebbene l'interazione fosse sempre text-based, le varie locazioni erano ora accompagnate da schermate grafiche più o meno curate: tutti gli avventurieri di quei tempi ricordano sicuramente gli incredibili sfondi di The Pawn della Magnetic Scrolls.
Nelle produzioni più evolute (tipiche della Sierra On Line) era addirittura possibile interagire con l'ambiente, muovendo il protagonista.
Se Rob Steggles l'avesse progettata allora, La Terribile Minaccia degli Invasori dall'Audiogalassia avrebbe potuto apparire così: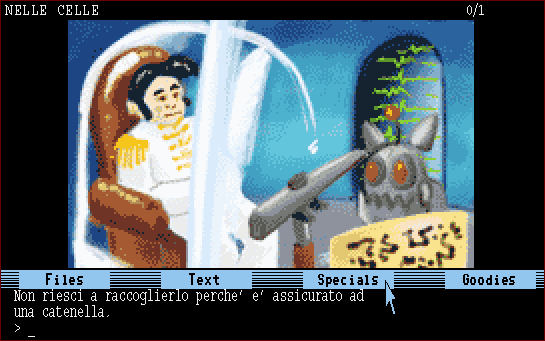 La rivoluzione
Persone come Roberta Williams (Sierra On Line), Marc Blank e Dave Lebling (Infocom), Rob Steggles e Ken Gordon (Magnetic Scrolls), i fratelli Austin (Level 9) e molti altri hanno scritto le migliori produzioni di adventure di quei tempi.
Ma nel 1987 avvenne la grande rivoluzione nel genere: fece la comparsa sulla scena videoludica un gioco chiamato Maniac Mansion prodotto dalla Lucasfilms Games (ora Lucasarts), progettato e programmato da Ron Gilbert.
La caratteristica principale era che lo SCUMM, il linguaggio di scripting progettato ad hoc per lo sviluppo di avventure, utilizzava e si basava su un'interfaccia Punta e Clicca: il giocatore non avrebbe più dovuto digitare i comandi da tastiera ma sarebbe bastato un semplice click del mouse per interagire con il gioco, selezionando icone che rappresentavano dei comandi predefiniti o aree attive sullo schermo.
Se nel 1987 Ron Gilbert avesse scritto La Terribile Minaccia degli Invasori dall'Audiogalassia, probabilmente oggi la conosceremmo così: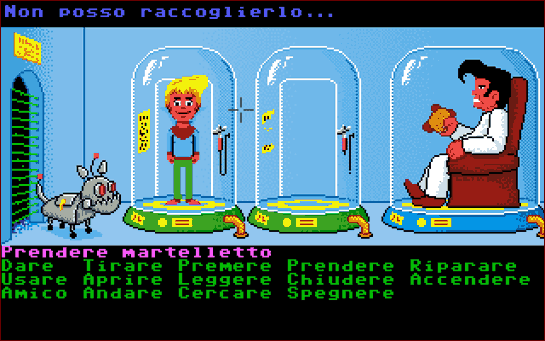 Il periodo d'oro
Era incominciata l'età dell'oro: a Maniac Mansion seguirono capolavori diventati pietre miliari nella storia dei videogames.
Giochi come The Secret of Monkey Island, Day of The Tentacle e Full Throttle (solo per citarne alcuni) portarono il genere avventura ad un altissimo livello di gradimento di critica e pubblico.
Persone come Tim Schafer, Jonathan Ackley, Dave Grossman, Al Lowe e lo stesso Gilbert erano vulcani di idee e le produzioni furono innumerevoli.
Anche le meccaniche di gioco fino a qual momento consolidate furono messe in discussione e ripensate completamente: ad esempio il giocatore non sarebbe più potuto morire nel corso dell'avventura e non ci sarebbero stati più vicoli ciechi che avrebbero compromesso l'esito del gioco costringendo l'utente a rincominciare da capo.
Il periodo d'oro durò una decina d'anni... Poi iniziò il declino.
Nella seconda metà degli anni '90 il mercato delle avventure grafiche andò in crisi.
Le ragioni sono molte ma, tra queste, un peso rilevante ce l'ha sicuramente l'affermazione dei giochi di azione alla Doom, giochi che i videogiocatori occasionali apprezzavano di più per la semplicità e l'immediatezza di utilizzo.
Inoltre i costi di produzione delle avventure erano diventati più alti rispetto ad altri giochi (incidevano molto le localizzazioni e il doppiaggio delle voci diventati uno standard minimo da soddisfare e raro nelle altre tipologie di gioco), così le grandi aziende smisero di investire e le produzioni diventarono sempre più sporadiche.
Con il nuovo millennio le avventure grafiche morirono quasi definitivamente.
Il nostro contributo al genere
Abbiamo cercato di sviluppare LaTerribile Minaccia degli Invasori dall'Audiogalassia con passione basandoci molto su quello che abbiamo imparato dai capolavori dell'età dell'oro.
Progettata con le conoscenze di oggi ma con lo sguardo e il cuore rivolti a ieri,
La Terribile Minaccia degli Invasori dall'Audiogalassia si presenta così: